Sumitomo Seika wins the Sensory Award Bronze 2019 of in-cosmetics global with AQUPEC MG N40R
Win the Sensory Award 2019
OSAKA JAPAN, April 2, 2019 — Sumitomo Seika exhibited at in-cosmetics Global in Paris on April 2-4, 2019. Cosmetic ingredients and formulations developed by the company were displayed at the booth during the three days.
Sumitomo Seika received the Sensory Award 2019 Bronze for AQUPEC MG N40R which was recognized as one of the most exciting sensory innovation among products by forty seven different suppliers. The moisturizing gel cream and the aqueous solution using AQUPEC MG captured the interest of the jury members.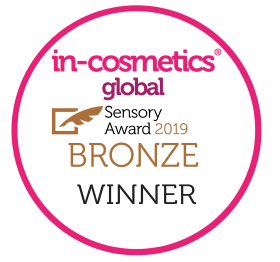 About AQUPEC MG N40R
AQUPEC MG N40R is one of the latest developments by Sumitomo Seika on the field of cosmetics. The spherical shapes grant a unique and impressive texture to this water-soluble thickener. It can be used in a wide range of applications, from skin care to make-up, hair care and toiletries.
Contact Information
Sumitomo Seika Chemicals Co., LTD.
Personal Care & Cosmetics
The Sumitomo Building 4-5-33 Kitahama, Chuo-ku,
Osaka 541-0041, Japan
Tel: +81-6-6220-8551
Email: func@sumitomoseika.co.jp