Fundamental Philosophy System
Sumitomo Seika Fundamental Philosophy System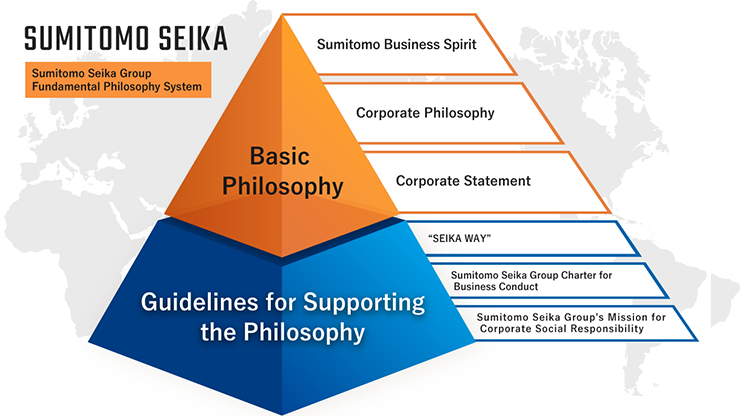 The Sumitomo Seika Group has established and systematized its basic philosophies that lay the foundation for its business management: these comprise "Sumitomo Business Spirit" as the fundamental principle of the Sumitomo Group, "Corporate Philosophy" that represents the ideal to which we aspire, "Corporate Statement" as a slogan to realize our Corporate Philosophy and three corporate guidelines ("SEIKA WAY," "Sumitomo Seika Group Charter for Business Conduct" and "Sumitomo Seika Group's Mission for CSR") that support these basic philosophies.
* "SEIKA WAY" ・・・
Values that all employees should share in order to develop such employees
* Sumitomo Seika Business Spirit Group Charter for Business Conduct ・・・
The fundamental principles that must observe to fulfill its responsibilities as a member of society.
* Sumitomo Seika Group's Mission for Corporate Social Responsibility ・・・
Basic policies for CSR activities
Sumitomo Business Spirit
We inherit the "Sumitomo Business Spirit" as the fundamental principle of our business management.
Business Principles
Article 1

Sumitomo shall achieve strength and prosperity by placing prime importance on integrity and sound management in the conduct of its business.

Article 2

Sumitomo shall manage its activities with foresight and flexibility in order to cope effectively with the changing times. Under no circumstances, however, shall it pursue easy gains or act imprudently.
Article 1 emphasizes the importance of gaining trust of business partners and of society. Article 2 underscores the significance of having an enterprising spirit in seeking to generate profits while adapting to changes in society promptly and appropriately and, at the same time, making constant efforts to reform business. It also strongly admonishes us against acting imprudently in pursuit of speculative gains.
"Jiri Rita Koushi Ichinyo " -Benefit self and benefit others; private and public interests are one and the same
This teaching states that Sumitomo's business must benefit not only Sumitomo itself but also the nation and society. Sumitomo must always conduct business in harmony with the public interest and fulfill its corporate social responsibilities.
Corporate Philosophy
Following the Sumitomo Business Spirit, the Sumitomo Seika Group will contribute to the advancement of society by developing world class creative technologies in the field of chemistry and, based thereon, supplying unique, high quality products to people around the world.
Corporate Statement

The term "URUOI" comes from a certain Japanese word which denotes moisturizing something literally and adding something gracious figuratively. By expressing this Japanese word in Roman letters as "URUOI", a key concept of our Group Corporate Philosophy, we have expanded the meaning of the original Japanese word to encompass our own definition, representing the unique value that our products and services can provide to our stakeholders for their well-being. Through offering a broad portfolio of products and services which have an important bearing on various facets of people's life, we will provide society and individuals alike with sustainable solutions where our Group's specialized expertise has fully been embodied, ultimately contributing to help people lead a healthy, comfortable and dignified life.
"SEIKA WAY" - Our guiding principles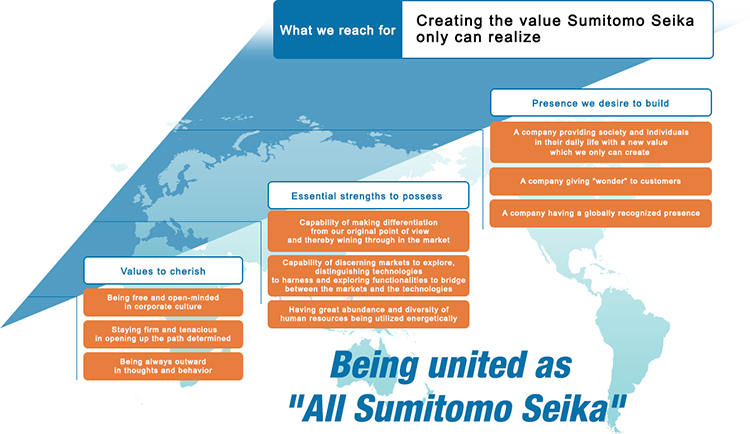 "SEIKA WAY" is our concept of values that should be shared by all employees of the Sumitomo Seika Group around the world.
We have formulated 10 guiding principles in writing to clearly show our aspired corporate image, as well as our thoughts accumulated through the years up until today, in line with three bases of value: "Presence we desire to build," "Essential strength to possess" and "Values to cherish."
Sumitomo Seika Group Charter for Business Conduct
The following are the fundamental principles that every company of the Sumitomo Seika Group and every employee and board member of the company must observe for the company to fulfill its responsibilities as a member of society.
We will contribute to society by developing and supplying products and services that offer high quality and safety in use.
We will abide by all laws and regulations, take every possible measure to do so, and act with the highest ethical standards and in a socially prudent manner.
We will respect the intellectual property and trade secrets of others and thoroughly protect personal information and customer information.
We will never provide gifts and entertainment to others or participate in exchanges of economic benefits for the purpose of seeking unfair gain nor provide gifts to any domestic or foreign government official.
We will engage in free competition and conduct business in a fair and honest manner.
We will respect every employee's rights and individuality, provide a safe and clean working environment and fair working conditions, and cultivate a corporate culture that allows employees to gain a sense of fulfilment from their work.
We will supply products that care for environmental stewardship, ensure stringent management of chemical substances, and take all possible measures to prevent accidents and ensure safety.
We will disclose company information appropriately and fulfill accountability to our shareholders, customers, employees, local communities and all other stakeholders who have a stake in our business activities.
We will contribute to the socioeconomic development of countries where we operate as our business operations globalize, by respecting their local cultures and customs as well as abiding by the laws and regulations of the countries.
We will stand firm against antisocial forces and groups and have no relationships whatsoever with them.
Sumitomo Seika Group's Mission for Corporate Social Responsibility
The Sumitomo Seika Group will tackle on the Sustainable Development Goals (SDGs), globally shared challenges, by creating value that we alone can offer through translating our corporate philosophy into practice, thereby contributing ultimately to the development of a sustainable society. With these initiatives, we will aim to meet expectations of all our stakeholders.
About Corporate Logo
The Sumitomo trademark(parallel cross pattern) we use as our corporate logo is widely known as the symbol of the Sumitomo Group. The mark came originally from an emblem that represented a "fountain" or "well", which was itself derived from the trade name "Izumiya" under which Sumitomo's founder first opened a shop in Kyoto during the Tensho era (1573-1593).
After the Meiji era, with the expansion and development of business, the mark was used as a corporate emblem, trademark and symbol in all Sumitomo business. Now, because of Sumitomo's large network of affiliated companies both consolidated and not, the logo commands a high degree of trust from society as a symbol of the Sumitomo Group.
As for our corporate colors, coral red is used as the main color and blue as the sub-color.
Coral red, which is adopted as the main color of the mark, is bright and warm, and represents our positiveness.
The corporate sub-color blue is mainly used for our abbreviated corporate name "Sumitomo Seika." This color, which evokes an intelligent, innovative and high-tech image, is used to emphasize our corporate name.
The logotype of our company name was designed with slightly thickened horizontal lines to echo our precision and dynamism.