Corporate Governance
Basic Position on Corporate Governance
We are aiming to grow into a company with a global presence by offering value that only Sumitomo Seika can create.
In order to support our company's growth, we are making efforts to improve and strengthen corporate governance based on the following policies.
We ensure that our shareholders are provided with all of the information that they need to properly exercise their rights and with opportunities to exercise such rights, and that all shareholders are treated equally.
We foster a corporate culture that respects the interests of our stakeholders, including shareholders, customers, employees, and local communities, and proactively cooperate with them.
We establish and implement a code of conduct that our officers and employees must abide by and appropriately manage an internal control system.
We promote appropriate and adequate information disclosure through such means as publishing financial information in English and providing information via the website in a timely manner, thereby ensuring management transparency.
Given its fiduciary responsibilities and accountability to shareholders, the Board of Directors presents the management policies and corporate strategies of Sumitomo Seika Group and makes timely and bold decisions in order to promote sustainable growth and improve the Group's medium to long term corporate value.
We engage in constructive dialogue with our partner toward achievement of sustainable growth and increased medium to long term corporate value, and we clearly explain our management strategies and plans in an easily understandable manner through such dialogue.Message from the President IR Policy Corporate Governance
Corporate Governance Structure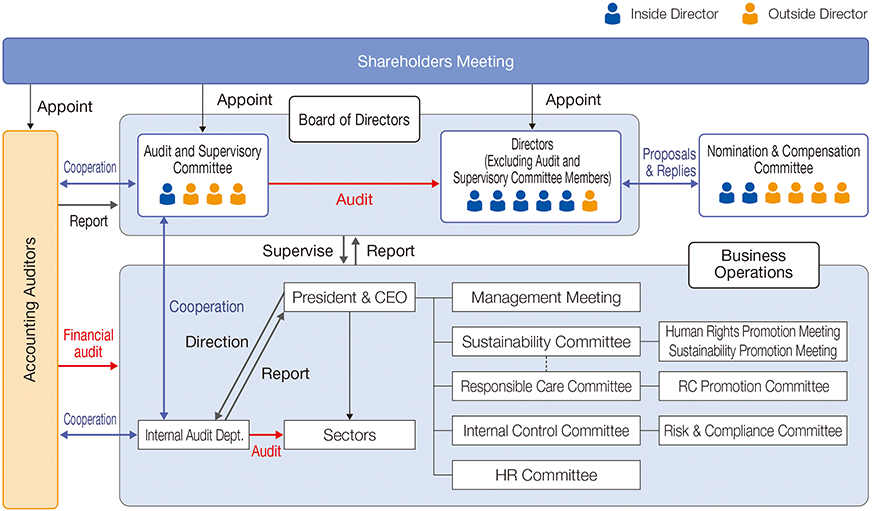 Response to BCP
Basic Policy
We will implement business continuity measures based on the following basic policy.
Establish the safety of the Group's employees, their families, and local residents. <Safety of human life and cooperation with local communities>
Minimize damage in the event of unexpected turn of events. <Maintain the management of the company>
Work to restore and resume business operations as quickly as possible in order to ensure a stable supply of our products. <Build relationships of trust with customers and business partners>