Responsible Care Activities
What is Responsible Care?
Responsible Care refers to voluntary activities by many chemical companies handling chemical substances aimed at preserving "environment, safety and health" in all phases of the product cycle from development to disposal or recycling via production, distribution, use, and final consumption, while ublishing results of activities and maintaining dialogue and communication with society. Responsible Care is a global initiative, adopted in more than 60 countries around the world.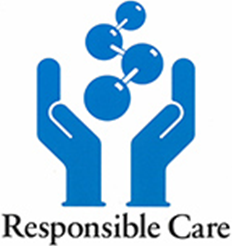 Policy and Promotion System
Policy
We have set "Corporate Policy on Safety, Environment and Quality" with the basic principles of achieving "zeroaccident and zero-injury operations", ensuring "customer satisfaction" and promoting "co-existence and coprosperity with society", while maintaining the fundamental policy of "prioritizing safety over everything else".
RC activities, among others, are extremely important issues for our chemical industries in order to continue sustainable development and gain trust and confidence from society.Having been participating in RC activities since 1995, as a member of society, we not only comply with related laws and regulations but also voluntarily work on environment protection, occupational safety, and disaster prevention. Incidentally, to further augment our RC activities and
communicate the activities to society, we signed the Responsible Care Global Charter revised in 2014.
Promotion System
RC activities require large investment decisions at times, in an effort to address such issues as environment protection, occupational safety, and disaster prevention. We have formed the RC Committee under the Internal Control Committee for the purpose of precisely judging rightfulness of plans and executions of our RC activities.
These Committees respectively meet every year to deliberate and decide on policies and plans, and to make sure that the Plan-Do-Check-Act (PDCA) cycle of RC activities is successfully implemented in accordance with the management system.
RC Audit
In order to ensure the continuous implementation of the PDCA cycle and the spiral upward, a specialized unit established by the chairperson of RC Committee conducts RC audits of domestic plants and manufacturing sites of overseas consolidated subsidiaries every year.
We check the implementation of RC action programs through the RC audit, and report the results at the Internal Control Committee and the RC Committee, of which we make the best use for the management review.